The Latest and Greatest in Old Greenwich
The Old Greenwich Association is a local residents association made up of a volunteer board. For over forty years, the OGA has worked behind the scenes on issues that positively affect our quality of life across all ages and interests. Our goal is to maintain, as well as find new ways of supporting, the special atmosphere that makes us proud to call Old Greenwich home.
There is a serious threat to our beloved Greenwich Point,
as well as the recreational waters and marine biology around Greenwich Point.
A large out-of-state commercial marine contractor named Weeks Marine is proposing to build a commercial "mooring"/ transfer station in the waters immediately off of Greenwich Point. This transfer station would house barges that would transport construction materials in and out of the Stamford Harbor from O & G Industries. This transfer station would house as many as four to six commercial transport barges at any one time, which would be towed in and out by tug boats, signaling each other with horns. The barges and transport station cover an area larger than a football field, and would be lighted all night by floodlights. The transfer station could potentially run 24/7, 365 days a year. An accident and/or storm incident involving these barges could result in serious pollution of our waters and Greenwich Point, and/or the destruction of shellfish beds around Greenwich Point.
What can we do?
1) Show up at the TWO meetings that will introduce this proposal, and urge your neighbors to do so as well (a CT DEEP representative will be at these meetings on Monday as well). The two meetings are as follows:
a) Monday, October 7 at 4:30pm in the Operations Conference Room (10th Floor of Stamford Government Center Building, 888 Washington Boulevard, Stamford CT. According to the published public notice, Weeks Marine will "present its proposal for a commercial mooring in the waters of Stamford Harbor south of the Stamford breakwater. All interested parties are invited to attend. After the informational presentation, there will be an opportunity for pubic participation and comments through a brief question and answer period."
b) Following the information session, at 5:30 pm on October 7 (same day, immediately following) there will be a meeting of the Stamford Harbor Management Commission; Application Review Committee, in the Conference Room on the 6th floor. Agenda item # 4 for that meeting is: "Shellfish Commission DEEP Permit Consultation Form – RACE Coastal Engineering, LLC, Weeks Marine, Proposed Commercial Mooring".
2) Consider donating to a legal effort by residents/ neighbors/ the town/ and private stewardship organizations to fight this proposal. The Greenwich Point Conservancy is a non-profit 501 (c) 3 corporation, and has created a segregated litigation fund to fight this. If you are interested in making a tax-deductible donation to this fund, please contact Greenwich Point Conservancy Vice President Alison Leigh at admin@greenwichpoint.org.
3) Contact O&G Industries headquarters in Torrington, CT (860-489-9261) and urge them to have their customer, Weeks Marine, withdraw this proposal.
4) Contact the CT DEEP's Ms. Sue Bailey 1-860-424-3625 to urge them to deny this application.
Care about the reconstruction of the Eastern Greenwich Civic Center?
Then Make your opinion count by doing these two things
Fill out the OGRCC SURVEY - CLICK HERE
2. Show up on june 12th at Town hall so the town representatives can better appreciate your concerns
civic center meeting
Town Hall
june 12th 7:30 PM
ALL ARE WELCOME TO ATTEND!
Town Survey to Assess the Needs for the Eastern Greenwich Civic Center
Please fill out by clicking on the image below and let the town know what you'd like to see. (The survey is lengthy but worthwhile) Thank you!
Special P&Z Meeting on Monday, May 14th at 4pm at Town Hall Meeting Room to discuss Sound Beach Project
Commissioner of Public Works requested that the Commission hold a special meeting, prior to the RTM meeting on Monday evening, on the Municipal Improvement for a major redesign of a street(s) and reconfiguration of Town land in the area in and around the Sound Beach Avenue/Laddins Rock Road/Harding Road traffic circle in Old Greenwich and the preliminary site plan to replace the Sound Beach Avenue Bridge over Cider Mill Brook, construct a new roundabout at Sound Beach Avenue/Laddins Rock Road/Harding Road, raising the elevation of Sound Beach Avenue, and roadway and safety improvements at Sound Beach Avenue and Forest Avenue.
More information on the DPW request can be read by clicking here
Thank you to all that showed up at the P&Z meeting on April 3rd to voice their opinion on the controversial Sound Beach Rotary Proposal. You can read our VP's comments in the Greenwich Free Press Story Here
CHECK OUT OUR FACEBOOK LIVE VIDEO OF THE ANNUAL MEETING. THANK YOU TO ALL THE SPEAKERS AND RESIDENTS WHO ATTENDED. IT WAS A GREAT MEETING.
Public Meeting on January 25th at 7pm at the Eastern Greenwich Civic Center
Your input is needed! Let's not have the town decide what is best in our neighborhood without our voice present!. For any more information please contact Gabriella Cohee.
2019 Plan of Conservation and Development (POCD) - Meeting January 17 at 7pm.
Greenwich is working on a plan for 2019. Check out their dedicated website by clicking HERE
Further ways how YOU can be Involved.
1. Attend the Community Workshop – open to all residents and others interested in Greenwich's well-being; 7:00-9:00 p.m., Wednesday, January 17, 2018, in Cole Auditorium, Greenwich Library, 101 W. Putnam Avenue
2. Create your own map of Greenwich - Use the map.social application ) on the POCD website to create your own map of Greenwich. This fun, easy, and engaging feature lets you identify what is good in Greenwich, what needs help, what improvements you would like to see, and more.
3. Complete a questionnaire - There are questionnaires on the POCD website for community members as well as specifically for businesses and youth . These questionnaires will help the town identify issues and priorities for Greenwich.
143 Sound Beach Proposal to be Heard November 9th at the P&Z Meeting at 7pm
The 143 Sound Beach application will next be discussed at the November 9th meeting at 7pm. We invite our members to attend the meeting and let the P&Z know their opinion on the proposed 60 unit apartment building in the center of Old Greenwich.
OG STRORM DRAINAGE PROJECT - CHECK FOR UPDATES HERE
Notice to the Old Greenwich School Community
All of the work that was scheduled to be completed prior to school starting was finished on August 30, 2017, which included the school driveway, paving and several drainage structures directly adjacent to the school driveway. Additional major work on Sound Beach Avenue then continued for a two week period overnight with some minor work occurring during the daytime. Detour route and night work was approved by the Board of Selectmen and Health Department, respectively.
The remaining majority of paving and curb installation on Sound Beach Avenue will be completed by the end of this week (October 7th). Please keep in mind that work will continue after that through an easement granted to the Town by private property owners between Sound Beach Avenue and Park Avenue. This will entail trucks and construction equipment entering and exiting Sound Beach Avenue in the vicinity of 282/284 Sound Beach Avenue for an additional 4-6 weeks.
Check the website for traffic updates.
Binney Park Dredging
Please click on the Upcoming Events link above or check the Department of Public Works website for updated info. Project is scheduled to run through first week of November with no parking on Arch Street, a cordoned off area for the dredging and drying out of the sediment (hold your nose)and various trucks throughout the area.
Ivy Realty Proposes a LARGER apartment building with Affordable Housing for 143 Sound Beach Avenue
Town Proposes Massive Redesign of Old Greenwich Rotaries. Please see flier below and consider visiting savetheisland.org to sign their petition and make your voice heard.
UPDATE: Planning and Zoning reviewed a proposal for a 44-unit Apartment Building at 143 Sound Beach Avenue on March 21st at 7:15pm.
Read the Article in the Greenwich Free Press by clicking here.
Following a private meeting, facilitated by the OGA, between the project's developers, architect and lawyer and the direct neighbors of the property, including those connected to the stop143soundbeach.com effort, new drawings have been released to reflect the residents concerns as well as an addendum to the traffic study previously released.
Please find these new renderings and addendum below:
Addendum to Traffic Analysis
WHAT WE'RE DOING:
We are in daily contact with the development firm's lawyer and have scheduled a sit-down meeting between the project stakeholders and the building's direct neighbors.
We are in contact with concerned residents, answering any claims and helping augment those concerns by directing them to appropriate sources.
Please reach out to us if you have any questions or concerns: info@oldgreenwich.org
WHAT TO SHARE
In addition to the renderings above and below, we have been given the traffic study solicited by the construction company and included in the project's proposal submitted to P&Z. Read it here. *Note the recent addendum above.
WHo TO WATCH / what to do
A group of concerned residents / direct neighbors have formed their own initiative. Please visit their site: www.stop143soundbeach.com and consider signing their petition here.
On March 2nd Sam Romeo will be having Mark Betz from GreenView Building Products and those from the Sound Beach Ave project present their plan from 6 - 6:30pm. If you'd like to call in please dial #203-661-5051.
Below are the renderings and site plans from the original proposal, including surveys done by D'Andrea and Associates.
The Eastern Greenwich Civic Center is up for a much-needed remodel with the Department of Parks and Recreation, whose current plan is to build a similar building to what currently exists. If you'd rather see a larger, more comprehensive structure as its replacement, read the petition below.
Please read the petition Regarding the eastern greenwich civic center and consider supporting it. thank you.
Thanks to all the volunteers who helped to make Binney Park look festive for the Holidays!
Volunteers Needed Today, Saturday December 3rd!
The Old Greenwich Association needs volunteers to hang holiday lights in Binney Park this Saturday, December 3rd at 9:30 am. We are meeting by the large stone bridge near Arch Street in Binney Park. We would greatly appropriate anyone who can help even if its just for an hour. We are also in need of a few step-ladders (8 feet or taller).
Hot chocolate, coffee and donuts will be provided. High-School students can also earn community service, we'll be glad to sign their forms.
Please RSVP to let us know if you can help: info@oldgreenwich.org
Thanks in advance from the Old Greenwich Association!
2016 Annual Meeting - Wednesday, November 9 at 7pm
First Congregational Church
108 Sound Beach Avenue
The Annual Meeting is a chance to get together with neighbors and friends to discuss community issues. The agenda for the meeting will include these topics:
Department of Transportation will discuss the Train Bridge Project

Department of Parks & Recreation presentation on the new Civic Center and dredging of Binney Pond

The Village Improvement Committee will discuss the work of volunteers seeking to enhance the appearance of Old Greenwich
OLD GREENWICH MEMORIAL DAY PARADE - Monday, May 30 at 10am
Look for OGA's brand new tent where we will have lemonade and stickers. We will also be documenting the parade with the help of GHS Yearbook Photographer. Please check back here for our Memorial Day Parade Gallery to download some great photos from the day.
THE OGA SUPPORTS THIS IMPORTANT PETITION.
Please join us by lending your signature:
Thanks to the volunteers who helped remove
the Holiday lights in Binney Park!
February 2015
our State Rep, Mike Boccchino, kindly PRovides us with maps to the detour routes and landscaping of the train bridge project.
Greenwich Time - Train Bridge Intensifies
Read the latest train bridge construction project update in today's greenwich Time
Night work and road closures have commenced on the Old Greenwich railroad bridge replacement project.
Nighttime road closings have begun on Tomac Avenue. While the overnight work has yet to start on Sound Beach Avenue, it is likely to begin in coming days.
According to Frank Pettise, the senior civil engineer on the project, the night work will run periodically from 7 p.m. to 6 a.m., but not simultaneously on the two spans.
Motorists are handling the new phase of the project in stride, though the impact of road closures will be greater once they begin on Sound Beach.
"No problems so far," local resident Nina Sutton said Wednesday on her way to shop at Kings grocery store in Old Greenwich. "But it is kind of a mess."
The president of the Old Greenwich Association, Meg Nolan van Reesema, said she has yet to hear about transportation problems in the community. "It's been quiet. So far it hasn't been invasive," she said.
Van Reesema has been meeting with state officials and transportation authorities to gain as much information as possible, especially on the Sound Beach Avenue route, the main artery in the neighborhood.
"I'd like to come up with a more definitive schedule," she said, since the closures thus far have been sporadic.
Ideally, she said, commuters coming home in the evening, or residents heading out after dark, should be able to know in advance whether road closures will affect their routines.
"I'm meeting with everyone I can, to get open lines of communication," van Reesema said.
Department of Transportation spokesman Kevin Nursick said Wednesday the exact start time for closures on Sound Beach Avenue was not immediately available.
The $14.87 million project is replacing the two aging railroad bridges, and making improvements to the Old Greenwich station.
The latter work includes creating a new retaining wall at the station and installing new staircases. More commuter parking spaces will be added. Improvements to the railway platforms are also in the works, including new energy-efficient lighting, three enclosed shelters and 27 benches for seating.
On Tomac Avenue, a new four-foot-wide sidewalk will be constructed under the west side of the bridge.
The work, which began in the spring of 2015, is expected to be completed by May of 2018.
Detour signs have been posted around the community, and buffer zone installed around the railroad bridges to allow work on the spans.
The main contractor on the project is Manafort Brothers of Plainville.
For Latest Train Bridge Update - Click HERE
Update on the Train Bridge Construction
November 1, 2015
Thank you to all who were present at our Annual Meeting. We are looking forward to an excellent year ahead. We APPRECIATE YOUR SUPPORT!
First Steps Taken in Train Bridge Construction Project
The first phase of the Old Greenwich Train Bridge Rehabilitation Project has begun, and it consists of Connecticut Light & Power (CL&P) relocating the existing overhead power line in the upper and lower portions of the South Commuter Parking Lot. In the following weeks, CL&P will also be installing new wooden utility poles and underground electrical service in the lower parking lot. As a result of this work, parking spaces at various locations at the Old Greenwich Railroad Station will be inaccessible. Please be cognizant of any construction signs, cones and notices posted at the site.
For more information, please click on the Train Bridge banner above, and bookmark this site so that you can regularly check for traffic disruption information, work schedules, and more.
Old Greenwich, Conn: Front-Porch Kind of Place
The New York Times, August 20, 2014
By Lisa Prevost
Photos by Douglas Healey
One night last month, Lesley King received a Facebook message that reflected what she considers one of the finest qualities of Old Greenwich: a connected community.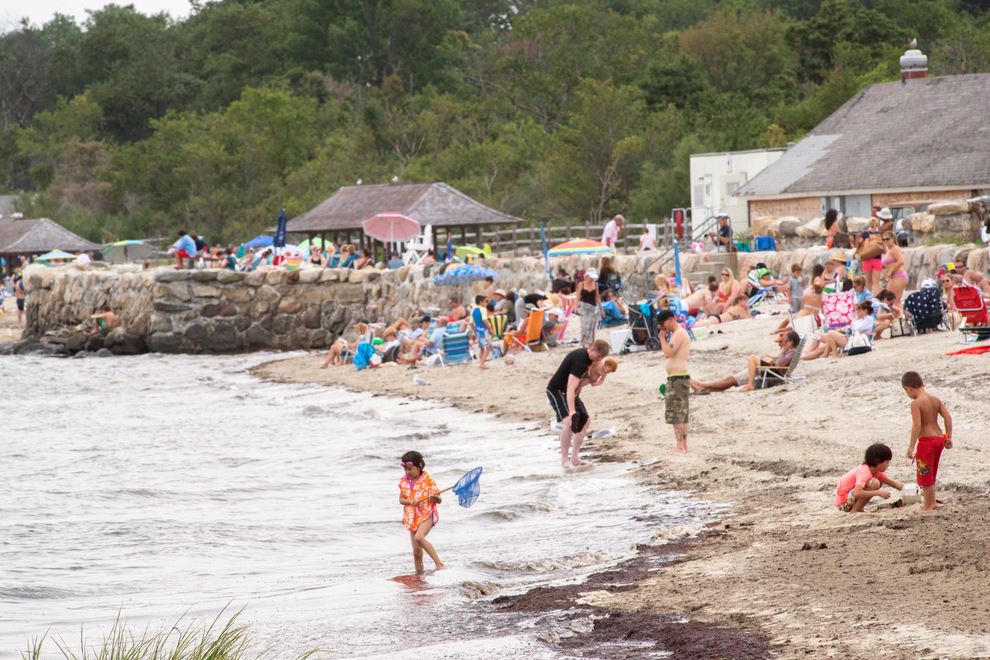 Her new business, Back 40 Mercantile, an upscale general store for the eco-conscious, had opened that day in the small commercial center called "the village." (Ms. King is an owner with family members.) She had closed up shop only a few hours before. The Facebook message arrived around 9: A man she barely knew wanted her to know that he had spotted a candle still burning in the shop.
A resident of Old Greenwich since 2001, Ms. King says that sort of neighborly outreach is the custom in a community where people's yards don't extend much beyond their houses.
At the home she shares with her husband, Bill, and their four children, the swing set sits in the front yard, an open invitation to youngsters walking by. That might not pass muster in the parts of Greenwich that take pride in pristine, gated isolation, but the culture of Old Greenwich is better expressed by the prevalence of front porches.
"The best thing about Old Greenwich," Ms. King said, "is that everybody lives in houses close to each other."
Continue reading the rest of the article in the New York Times
A New Old Greenwich Takes Shape
Greenwich Time, December 6, 2014
By Robert Marchant
Meet the new face of the Old Greenwich business district: gluten-free pancakes, organic yogurt, makeovers for dogs, craft beer and $19-a-pound cheese from northern California.
The old face of the business district that is no more: a coffee shop, an old-time pharmacy, a family-run grocery store. Also gone, some feel, is the unpretentious and distinctive atmosphere that gave the retail strip on Sound Beach Avenue its down-to-earth appeal, outdated signage and all.
Since the upturn in the economy, all the vacancies that had once troubled the avenue have now been filled, with about eight new stores opening in the past year. Now that the retail strip has been rebooted, regular shoppers, local residents, community leaders and merchants are discussing whether the low-key appeal of the old Old Greenwich business district has been replaced with a more worldly ambience -- and how much of a good thing that is.
To John Romeo, the trendy new stores on the avenue are a sign of the times, and not in a good way. To him, the upscale boutiques along Sound Beach mark big money's conquest of another section of town. "So many rich people, they're pushing out the middle class," said Romeo, who is in his 70s and works as a crossing guard. "The stores here aren't the same as they used to be. The middle-class stores, they're going to be all gone," he said.
Sound Beach Avenue still has a hardware store -- unlike other upscale shopping corridors where it is impossible to find useful items like duct tape or a garden hose. Sue Connolly, outside the hardware store with her husband, Craig, admits to a bit of nostalgia for the old business district. "I miss some of the mom and pop stores. You used to get that personal touch," she said, "But you have to go with the flow, you can't change it."
A number of other shoppers see nothing but good news in the new mix of businesses that have opened. Maureen Hammer, a teacher and writer who recently moved to Old Greenwich from Trumbull, said she loves the high-low combination of stores that the avenue seems to offer. She was perusing bargains in the Rummage Room.
"I love this town," she said. "I love the mix of stores, and every store has its own unique style. And everyone has been so nice." A prime example of the change in Old Greenwich is the Fat Poodle, opening later this month in the space that housed Arcadia Cafe -- for years a favorite place in the village to meet and hang out over coffee. A local restaurateur behind the business, which will offer more than a dozen craft beers and an "international-bistro" style of dining, said his partners felt the location would be successful.
"There aren't that many places to eat, and a hip new place was needed in the area," saidAntoine Blech, a co-owner of the new venture who is also a partner in Le Penguin in downtown Greenwich. "And we're right next to the train station."
David Rafferty, president of the Old Greenwich Association, points to the local ownership of many of the new businesses -- people like Blech. He said they are much like the store owners who always have run businesses in the district -- only a bit more conscious of changing consumer demands. "A lot of them are moms and pops, they see themselves as moms and pops," Rafferty said, "They've also put a lot more emphasis on design."
Continue Reading the Full Story in the Greenwich Time